Weather forecast and live cam in Corvara

Today: Partly sunny
Partly sunny weather with some harmless clouds. Top temperatures between 12° and 20°.
---
Tomorrow: Increasing cloudiness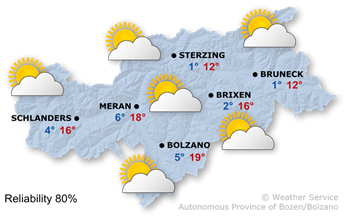 Sunny weather in the morning. In the afternoon clouds will increase with the possibility of isolated showers in the evening. The precipitation will be more widespread during the following night. Snowfalls over 600/1200 m above sea level. Afternoon temperatures between 12° and 19°.
---
Next days Weather forecasts: Unsettled weather on Monday
Webcams
Place: Corvara
Height: 1568 m

Place: Alta Badia, Passo Gardena
Height: 2122 m

Place: Corvara, Piz Boè
Height: 2224 m

Place: Corvara, Piz Arlara
Height: 2002 m