Active holidays in the Dolomites of Alta Badia, Italy
Each season has its own charm
In Garni Raetia you can expect your holidays in the Dolomites in Italy to be filled with activities and beautiful moments, thanks to its unique location in Alta Badia. Corvara is a small picturesque village surrounded by magnificent peaks right in the heart of Dolomites, one of the jewels among the UNESCO World Heritage sites. We are very proud to be living in this beautiful scenery and are looking forward to sharing that with you. Come and admire it with your own eyes.
Winter on the slopes of Alta Badia
During the winter, when Alta Badia's landscape is under a mantle of snow, you will see the eyes of winter sports enthusiasts light up. Located in the middle of the world's largest ski area - Dolomiti Super Ski, Corvara is the ideal starting point for discovering around 1,200 km of ski slopes in 12 ski areas. There is something for everyone – with state-of-the-art lift facilities and slopes of varying difficulty – Dolomity Superski Pass covers it all. You can choose something closer to home or push yourself to the limits in places where only a few men have skied before. Alta Badia, one of the featured resorts, is a true paradise for skiers, snowboarders and lovers of winter sports. And while you are out and about enjoying the night life of Corvara, or just creating a sweet dream in your cozy bed, the slopes are being manicured to perfection by groomers to provide the best snow experience the following day. For those of you without any equipment, come and see us and we will recommend you a ski rental in the close proximity of our Garni Raetia that best meets your needs.
During the sunrise on clear days, when the first rays of sun hit the mountaintops, you can witness a spectacular phenomenon called the "enrosadira". This is a very unique light effect, also sometimes visible during the sunset, that makes the mountains glow rosy; one sensational occurrence that is absolutely priceless.
Countless emotions, various activities and magical colors of summer
Throughout the summer, Enrosadira plays a big role especially in the late afternoon and evening, when golden colors of the mountain peaks appear on the horizon. One of the places from where you get to see this light show is when you take a romantic stroll towards the Lake Biotope in Corvara. From there, you can see the "Holy Cross" mountain range appear in the distance with its sun-kissed rosy peaks. It is an absolute must to take the time and soak up this spectacle before the brisk sunset makes the beautiful bright picture disappear.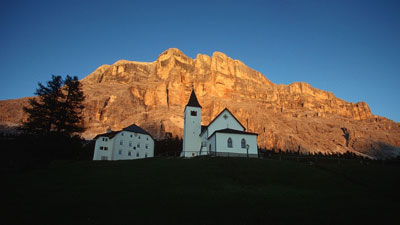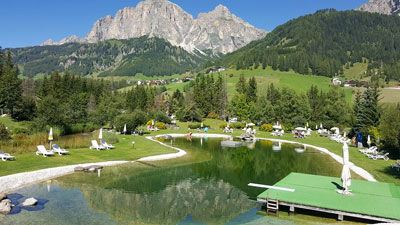 In your holidays in the Dolomites, during June and July, you can adore the amazing shades of the meadows in this area, filled with intense colors of martagon, fire lilies, sage, daisies, asters and many more. During August, when the smell of freshly cut grass tickles your nose, the cleanest mountain air fills your lungs and majestic mountain peaks delight your eye, then you know it's time to get out and have fun.
Alta Badia's splendid nature and various activities like hiking, bike riding, climbing, golf, tennis, fishing, adventure park satisfy everybody's palate and make you create unforgettable holidays in South Tyrol. There are many ways how you can discover and enjoy this area and its high alpine mountain roads and passes, demanding forest trails and the most breath-taking routes. You can explore on foot, rent a bike and ride the roads, or fly; we are here to provide you with suggestions to make your stay enjoyable.
Your unforgettable vacation in Alta Badia, Italy, is waiting for you and starts at Garni Raetia in Corvara.